Young Anne
Talk

22
2,071pages on
this wiki
Young Anne as she appears in Downpour
Appearance(s)
Silent Hill: Downpour
"
Why did you hurt him? He never did anything to you!

—Anne accuses Murphy of murdering Charlie

"
Young Anne is the younger manifestation of Anne Cunningham seen in Silent Hill: Downpour.
Appearance
The younger manifestation of Anne wears a pale, gray dress with a white collar, and white socks under brown mary-jane shoes. Her hair is medium brunette and shoulder-length with a roughly cut fringe. She also has a bit of baby fat on her due to still being a young child.
Silent Hill: Downpour
Young Anne appears very briefly in the Centennial Building Otherworld, running across a bridge above the water slide. Soon afterward, the adult Anne is seen running across a second bridge, which further implies that the two characters are somehow connected.
Young Anne is seen at St. Maria's Monastery towards the end if the visit, but is alluded to when Murphy encounters the manifestation of his son, Charlie. He claims she is "always crying" and "knows things", and also believes that Murphy is the Bogeyman and warns the boy not to go anywhere near him. She also tells the boy that Murphy killed his son. Murphy often sees her wandering around the monastery before running away from him and locking the door behind her, sometimes laughing or gasping in the process. On one instance she can be seen sitting in a chair and singing the nursery rhyme "Itsy Bitsy Spider".
After the boy is killed by the Bogeyman, Murphy mourns his death and calls out Charlie's name, realizing the boy represents his son. Young Anne finds the two and screams, accusing Murphy of killing the boy before running off in terror. Murphy chases after her, fearing that the Bogeyman will kill her too. He eventually finds her in the monastery's loft, tending to the Wheelman. Murphy approaches them and tries to save the girl from the creature, but the floor beneath him breaks and he falls.
Symbolism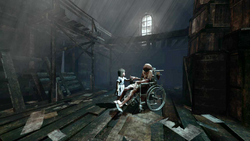 Young Anne is the manifestation of Anne's hatred of Murphy. [1] For her, Murphy was a cold-blooded murderer who deserved to die, making him, in her eyes, a Bogeyman. This idea also seems to be represented in her caring for the Wheelman during the St. Maria's Monastery Otherworld. Anne Cunningham cared for Frank Coleridge, her father, in his "vegetable" state.
Trivia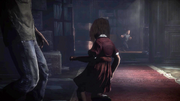 Her appearance was changed during production. In the debut trailer, she wore a red dress and had dark brown hair, but in the final product, she wears a grey-green dress and has lighter shade of brown hair, which is also styled differently.
It is possible that the girl was originally supposed to be the same character as the missing girl on the milk carton in the Ribbons sidequest due to how she looked in the debut trailer.
Young Anne has similar behavior to Alessa Gillespie. Both characters run away while the main protagonist (Murphy and Harry Mason) chase after them. Whether or not Young Anne does it intentionally to lead Murphy somewhere, however, is unknown.
Gallery