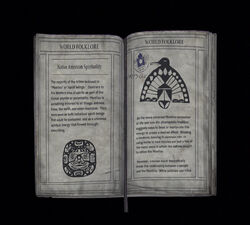 World Folklore is a book that Murphy Pendleton can find in the library archives inside the Centennial Building.
Transcript
Native American Spirituality
The majority of the tribes believed in "Manitou" or "spirit being." Contrary to the Western idea of spirits as part of the human psyche or personality, Manitou is something inherent to all things: animals, trees, the earth, and even machines. They were seen as both individual spirit beings that could be contacted, and as a universal spiritual energy that flowed through everything.
As the more universal Manitou connected all life and non-life, shamanistic tradition suggests ways to bend or manipulate this energy to create a desired effect. Blessing a newborn, dancing to summon rain, or using herbs to heal injuries are just a few of many ways in which the natives sought to utilized the Manitou.
However, overuse could theoretically break the relationship between a people and the Manitou. While scholars can't find-
Ad blocker interference detected!
Wikia is a free-to-use site that makes money from advertising. We have a modified experience for viewers using ad blockers

Wikia is not accessible if you've made further modifications. Remove the custom ad blocker rule(s) and the page will load as expected.