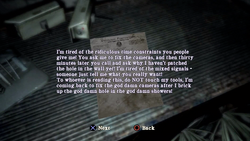 The Worker's Note is a memo from Silent Hill: Homecoming found in Overlook Penitentiary on the first floor on an electric cart by a stairwell. The note is from a worker complaining about how things are done in the prison.
Transcript
I'm tired of the ridiculous time constraints you people give me! You ask me to fix the cameras, and then thirty minutes later you call and ask why I haven't patched the hole in the wall yet! I'm tired of the mixed signals - someone just tell me what you really want!
To whoever is reading this, do NOT touch my tools, I'm coming back to fix the god damn cameras after I brick up the god damn hole in the god damn showers!
Ad blocker interference detected!
Wikia is a free-to-use site that makes money from advertising. We have a modified experience for viewers using ad blockers

Wikia is not accessible if you've made further modifications. Remove the custom ad blocker rule(s) and the page will load as expected.