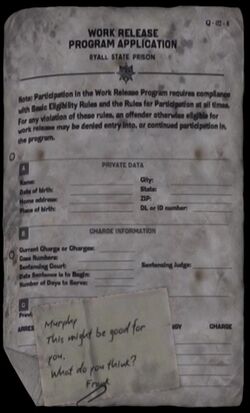 The Work Release Program Application is found in Silent Hill: Downpour, on a drill press in workshop area, in Block B of the Overlook Penitentiary. This is an application handed to Murphy Pendleton from Frank Coleridge for a work release program, possibly to help his case, and shorten his prison sentence.
Transcript
WORK RELEASE PROGRAM APPLICATION
Note: Participation in the Work Release Program requires compliance with Basic Eligibility Rules and the Rules for Participation at all times. For any violation of these rules, an offender otherwise eligible for work release may be denied entry into, or continued participation in, the program.
PRIVATE DATA
Name:
Date of birth:
Home address:
Place of birth:
City:
State: ZIP:
DL or ID number:
CHARGE INFORMATION
Current Charge or Charges:
Case Numbers:
Sentencing Court:
Date Sentence to Begin:
Number of Days to Serve:
Sentencing Judge:
[Attached Note]
Murphy
This might be good for you. What do you think?
Frank
Ad blocker interference detected!
Wikia is a free-to-use site that makes money from advertising. We have a modified experience for viewers using ad blockers

Wikia is not accessible if you've made further modifications. Remove the custom ad blocker rule(s) and the page will load as expected.