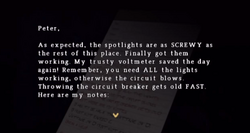 Wiring Notes is a memo found by Travis Grady in Silent Hill: Origins. The note is found in a lighting box on the second floor of Artaud Theater and hints at how to solve the Spotlight Puzzle.
Transcript
"Peter,


As expected, the spotlights are as

SCREWY as the rest of this place.

Finally got them working. My trusty

voltmeter saved the day again!

Remember, you need ALL the lights

working, otherwise the circuits

blows. Throwing the circuit breaker

gets old FAST. Here are my notes:


B has to be half the wattage of D.

A+B must not exceed C.

Wattage of D must not exceed A.

Break a leg!


Eric"