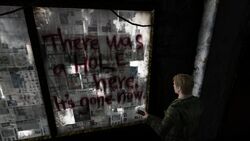 A Window Message can be found inside Neely's Bar on Neely Street in South Vale, which appears in Silent Hill 2.
According to the Book of Lost Memories the message is referring to holes that open up around Silent Hill luring those with darkness in their hearts.
Transcript
"There was a HOLE here.

It's gone now.