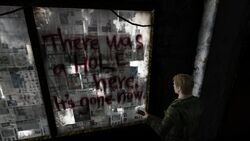 A Window Message can be found inside Neely's Bar on Neely Street in South Vale, which appears in Silent Hill 2.
According to the Book of Lost Memories the message is referring to holes that open up around Silent Hill luring those with darkness in their hearts.
Transcript
"There was a HOLE here.

It's gone now.
Ad blocker interference detected!
Wikia is a free-to-use site that makes money from advertising. We have a modified experience for viewers using ad blockers

Wikia is not accessible if you've made further modifications. Remove the custom ad blocker rule(s) and the page will load as expected.