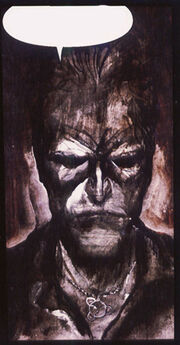 Whately's Circle is a magic symbol employed by Whately in Dying Inside.
Appearance
Made up of a single circle, this symbol also has three lines curving off of the outer edge toward the center, each ending in an arrowhead-like point.
Uses
The extent to which the circle can be employed is unknown, but Whately has demonstrated that it is capable of dispatching a moderate group of individuals in a sudden column of fire. The flames appear to have no effect on Whately. It is also worn by Whately as a charm on a necklace.
Trivia
This symbol may have been intended to be identified with the Brand of Samael; however, beyond its single appearance here, the symbol is not seen again.
Ad blocker interference detected!
Wikia is a free-to-use site that makes money from advertising. We have a modified experience for viewers using ad blockers

Wikia is not accessible if you've made further modifications. Remove the custom ad blocker rule(s) and the page will load as expected.