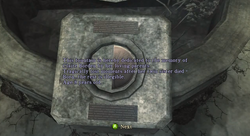 The West Fountain Inscription is a memo found in Rose Heights Cemetery in Silent Hill: Homecoming. Found in the west garden of the cemetery on a fountain, this inscription is dedicated to Claire Borden, twin to Charlotte Borden and former resident of Shepherd's Glen.
Transcript
This fountain is hereby dedicated to the memory of Claire Borden by her loving parents.
Taken lost moments after her twin sister died - Born...

(the rest is illegible.)

Age 8 years old.
(There's an additional inscription below.)
Inseparable, yet divided,
two halves of the same person,
in two places, now forever apart.