Description
"Doll carved from wax. It was lying in the cell."
Purpose
One of three items needed to exit Toluca Prison
Location
Cell, Toluca Prison
Appearances
Silent Hill 2
The Wax Doll is an obtainable item in Silent Hill 2. It is found in Toluca Prison, located in the upper south row of cells, on the bed of the second cell from the east. Its location suggests it was hand-crafted by a prison inmate, and its form vaguely resembles that of a human figure, or even a rabbit. The item is an ordinary doll made from wax; however, when melted with the lighter and attached to a horseshoe, it forms a handle that is used to open the hatch on the first floor in the west wing of the prison.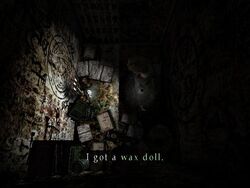 Ad blocker interference detected!
Wikia is a free-to-use site that makes money from advertising. We have a modified experience for viewers using ad blockers

Wikia is not accessible if you've made further modifications. Remove the custom ad blocker rule(s) and the page will load as expected.