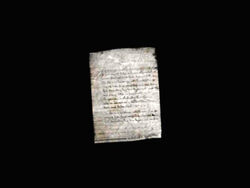 The Waterwheel Room Plate Message is one of the Water Prison World memos collected in Silent Hill 4: The Room. The message is on the sign by the northwest tip of the waterwheel wall edge in the B2 waterwheel room.
Transcript
To turn on the lights in the 3rd floor cells, turn this waterwheel. Remember
that the water must flow in the direction of the waterwheel. Of course,
you also have to open the sluice gate on the roof.