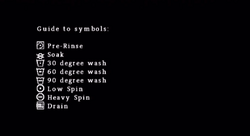 The Washing Machine Manual is a manual found in Silent Hill: Origins. It lists the maintenance procedures for the appliance and serves as a clue to the Laundry Puzzle. Travis Grady can find it in the first floor laundromat of the Riverside Motel.
Transcript
"Guide to symbols


Pre-Rinse

Soak

30 degree wash

60 degree wash

90 degree wash

Low spin

Heavy spin

Drain"
Ad blocker interference detected!
Wikia is a free-to-use site that makes money from advertising. We have a modified experience for viewers using ad blockers

Wikia is not accessible if you've made further modifications. Remove the custom ad blocker rule(s) and the page will load as expected.