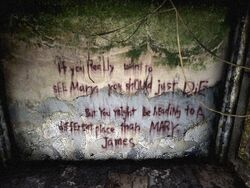 A Warning Message is present on a wall inside of Neely's Bar on Neely Street in the Otherworld version of South Vale, which appears in Silent Hill 2. Before Silent Hill shifted to its darker version, the wall was blank.
This message is aimed directly at James Sunderland. It implies that while his wife may be resting in Heaven, it is probable that he may go to Hell due to the sins he has committed.
Reading this message will increase the chances of getting the "In Water" ending; examining Angela's knife frequently and reading the diary on the roof of Brookhaven Hospital also increases the odds. There is an anagram in the capitalization that can be put together to read "I NEED YOU MARY BE REAL".
Transcript
"If you really want to see Mary,
you should just DIE.

But you might be heading to
a different place than MARY, James."