SILENT HILL GAME RATINGS
Silent Hill
[completed]
rating:7/10


Silent Hill 2
[completed]
rating: 10/10 (best story + best music, simply breathtaking)
Silent Hill 3
[completed]
rating: 9/10 (great atmosphere)
Silent Hill 4: The room
[completed]
rating: 9/10 (unique and amazing experience! Together with one of the best OST soundtracks)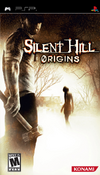 Silent Hill: Origins
[not completed]
rating:4/10 (my worst SH experience by far)
Silent Hill: Homecoming
[completed]
rating: 6/10 (too much terrible combat, pathetic story, lack of atmosphere)
Silent Hill: Shattered Memories
[completed]
rating: 9/10 (brilliant story & effects + great great OST)
Silent Hill: Downpour
[completed]
rating: 9/10 (back to SH roots! amazing exploration and side quests! Technical issues to be fixed soon with an upcoming patch! One of the best SH experiences since a long long time.
Ad blocker interference detected!
Wikia is a free-to-use site that makes money from advertising. We have a modified experience for viewers using ad blockers

Wikia is not accessible if you've made further modifications. Remove the custom ad blocker rule(s) and the page will load as expected.