Hello everyone! I hope you are ok today :)
I found something that may show some proof to God's appearance in this movie, Silent Hill: Revelation 3D.
The first proof is something that i think we all know about: the Roger Avary Posters of Silent Hill: REVELATIONS, which shows a Fetus inside a Womb. This is obviously a reference to God.
But, i found a new thing that may proof her appearance here. This may not be totally new for those that visit the SH:R facebook page, specifically in the gallery, and i also put this in the Silent Hill Heaven some time ago.
Anyway, here it is: I found a Picture of the set in Toronto, showing part of the bridge. The strange part is, it has something written on it: it says "I know this makes you angry *¨heart drawing*".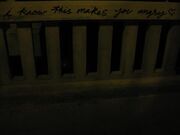 I think everyone here knows who wrote it (just see my profile picture :D LOVEher...for some reason), Claudia, who wants Heather to birth God from her growing Hatred towards her. If they stay faithful to it, this may be also the case in the movie, Claudia wanting her to bring God that way.
The Order's beliefs HAVE to be different to those of the Brethren, and i think this god thing may be the case.
Anyway, question time! If it doesnt represent Claudia's wishes of the game, what else could that represent? Post your answers here! :)
Ad blocker interference detected!
Wikia is a free-to-use site that makes money from advertising. We have a modified experience for viewers using ad blockers

Wikia is not accessible if you've made further modifications. Remove the custom ad blocker rule(s) and the page will load as expected.