Έρως ανίκατε μάχαν.
"He loved me just like I was his very own daughter..."
Ήλθον, είδον, ενίκησα.
"Suffering is a fact of life. Either you learn how to deal with that or you go under."
She dealt with it. She fought it. The pain, the anger, the loss, the weariness is written in the mirror of her soul, her eyes...
Intro
Hi i'm a big Silent Hill fan, obviously, and i always want to know more about it, that's why Silent Hill Wiki is my special place that i often visit!! And since i visit it so often i decided to sign up after all that time!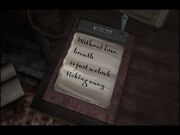 About me
Shh!! We don't talk about me!
But here's my YouTube channel for no reason! http://www.youtube.com/user/ArtificialMagic/videos?view=0&flow=grid
And another profile of the "The Last of Us" wiki: http://thelastofus.wikia.com/wiki/User:Makunis
I uploaded some Silent Hill related videos if you want to check them out!
Also here's my website too! http://rlclick.weebly.com/
Quotes
Here i'll post quotes that i like, which may not be related to Silent Hill, but about things that i like to think about!
"All men dream but not equally. Those who dream by night in the dusty recesses of their minds, wake in the day to find that it was vanity...but the dreamers of the day are dangerous men, for they may act their dream with open eyes to make it possible. This i did."
"And all men kill the thing they love, by all let this be heard.
Some do it with a bitter look, some with a flattering word.
The coward does it with a kiss, the brave man with a sword."
"It is sweet to dance to violins, when Love and Life are fair.
To dance to flutes, to dance to lutes is delicate and rare.
But it is not sweet with nimble feet to dance upon the air..."
"And so, all the night-tide, I lie down by the side
Of my darling- my darling- my life and my bride,
In the sepulchre there by the sea,
In her tomb by the sounding sea."
"But I, being poor, have only my dreams;
I have spread my dreams under your feet.
Tread softly because you tread on my dreams."
"Don't lie to the people who trust you, don't trust the people who lie to you..."
"All I know is this; you don't confront your demons and defeat them. You confront them, then you confront them, then you confront them some more, every single day."
"Can man be free if woman be a slave? Chain one who lives, and breathes this boundless air, to the corruption of a closed grave!..."
The only thing that I'm certain of, is that I can't be certain of anything.

P.S: Silent Hill isn't just a game. If we compare it to what we humans live on earth, it's basically pretty much alike. There are lots of monsters and we often have to face the truth in the end, because ethics will punish us or at least bother us in the depths of our hearts. Some of the quotes, at least for me, do feel a lot like Silent Hill...
Games
Favourite Games
Silent Hill 2
Silent Hill 3
Silent Hill: Shattered Memories
Silent Hill: Origins
Silent Hill: Downpour
Uncharted
Uncharted 2: Among Thieves
Uncharted 3: Drake's Deception
Fahrenheit
Heavy Rain
Dead Space 2
Alone in the Dark
Alan Wake
Red Dead Redemption
GTA: San Andreas
Enslaved
Crash Bash
Crash Team Racing

Crash Bandicoot: Warped

Prince of Persia: Sands of Time

Amnesia: The Dark Descent
Tomb Raider 2013

Tomb Raider HD Trilogy

The Walking Dead (Telltale games)

Bioshock

Bioshock: Infinite

Portal

Portal 2

Metro Last Light

The Last of Us

Gone Home

To the Moon
Books
Favourite books and books i've read! (only some i'm not going to post my whole library!)
Harry Potter Series (ALL.OF.THEM!! LOVE IT. Basically Harry Potter was with me more than half my life, so...thank you J.K Rowling!)
The Hunger Games (Amazing!)
Stephen King books (read a few but i won't pretend to be a Stephen King reader)
The Bone Collector
The Three Detectives Series
The 39 Clues Series
Alice in Wonderland (so many metaphors, love it!)
Tales and Poems of Edgar Allan Poe
Poetry and Prose of Shelly
Selected Works of Oscar Wilde
And i also looking forward  to reading Fyodor Dostoyevsky, beggining with Crime and Punishment! I already love him before i even read him! And also George Orwell, Nineteen Eighty-Four!
Video
My tribute to Revelation and Heather! <3 Enjoy and remember to love Heather!! Preferebly choose the first link because it's my original. YouTube blocked it and it's not playable in some countries, so i posted it on Facebook. The second link is the same but i had to change the music a bit for Youtube to accept it.
http://www.facebook.com/photo.php?v=268886806577424
http://www.youtube.com/watch?v=ybVO8O3EM64
Also i have made so far three Silent Hill Shattered Memories Parodies. Here they are in order:
Gallery
Pictures that i like! Especially pictures of Heather!
Got to love Heather! <3
I do not own any of them, so the rights to the owners.
My Art
A few of the pictures i have made! Thanks to the people from DeviantART i have unearthed a great 3D modeling program - XnaLara which is incredible for making scenes, models and different poses. Anyone who is interested check it out, it's free and amazing! Make some Silent Hill art!! :P
You can check my DeviantART account here: http://hpval.deviantart.com/