Hazardsfury - Chat Moderator

"But how can you say that it's this town that's insane, perhaps it we who are insane..... both of us hopelessly insane...
Hi my name is Robert Lambert. I'm one of two Chat Moderators, the other being Ari, and a regular contributor for the Silent Hill Wiki. I'm also the founder of Restless Dreams, and the Silent Hill Theories Wiki. If you ever need any help, or somebody to talk with then I'll be willing to help you out.
Me? Maybe?
I'm a 24 year old video games designer and complete scrub, from a little city called Sheffield in the UK (that place where Sean Bean comes from. You know him right? XD) but live and work in Horsham at The Creative Assembly. (that place that makes the awesome Total War Franchise)
I'm obsessed with Silent Hill.. I played it for the first time when it was shipped as a demo with Metal Gear Solid, and then got the first game at the tender age of ten, finishing it in one sitting...
On the Wiki, you will often see me editing either the Silent Hill: Downpour pages or the Silent Hill 2 pages. I also make templates so if you need something doing, just ask.
I also bug Masahiro Ito all the time on Twitter, so if you want anyone to ask him questions, I'll bug him for you :)
Current Location: Without internet at the moment will be back in action from the 6th of September
I am also in love with Ricky.
Also MissGarland is bae. Like she's a totally hottie. 10/10 would bang.
Contacting Me
Usually it's always best to contact one of our Administrators if you have any issues with the Wiki or questions. But if you aren't able to, or need a reply quickly (as I'm on nearly all the time) send me a message on my message wall. Or send me an e-mail at: silenthillrestlessdreams@gmail.com
If you need to talk with me privately I can give you my Skype on request.
Working On
Working on major clean-ups/additions to the following:
My Wiki Friends
I get on with almost everybody on the wiki be it old members or new members. Below is a list of a couple of people I get on with quite well on a day-to-day basis.
Angie: Angie is one of the first people I met on the Wiki, she is my role-playing buddy and she has a very interesting sense of humor. She doesn't frequent the Wiki much anymore, but I keep in contact via Skype and Facebook.
Ari: Ari is my fellow cohort, and we often discuss any potential issues with the Wiki when it arises. She is really nice, and I often talk with her about many things, old and past.
Emmy: Also known as "Puddi Puddi!" if I find anything funny, usually I'll show this girl. We have crazy conversations all the time, and you'll often find us sending each other various oddities via the message wall. If you are a new user or just want a chat this girl will make your day.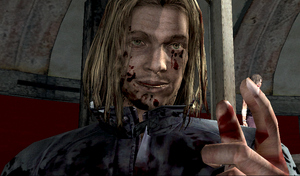 Jess: Jess tells it how it is. When I have any issues I'll usually run it past her where she'll tell me straight there and then what I should do. I love Jess very very much, and can literally talk to her about anything... Oh and she beats me at games. ;/
Jo: Jo is a really cool guy but has a habit of telling me off... :( He has a strange taste in certain Fanfics, so be careful what you ask for...
Rafael: Me and Rafael get on really well. We tend to discuss many theories and musings about Silent Hill on a day-to-day basis. He knows his stuff about Silent Hill: Downpour, but he isn't around much nowadays :(
Some Silent Hill Theories I Subscribe To
I co-admin the Silent Hill Theories Wiki so I have a good deal of theories regarding Silent Hill. Below are some of the theories that I've published:
Travis Grady is a serial killer, with dissociative identity disorder brought on by the abuse of his mother. Alot of evidence suggests this including the ambigious photographs in Riverside Motel and his odd desensitized outlook on death. [1]
Lisa Garland was a tool used by Michael Kaufmann in order to lie and distract Travis Grady, hoping to derail his search for Alessa. Yes, that means I believe she had a reason for her appearance in Silent Hill: Origins. [2]
Ernest Baldwin is the one who is leaving messages all around town in an attempt to guide James Sunderland on his journey. [3]
Favourite Video Games
Everyone loves lists! Below are some of my favourite games (not every game) some of them you'll probably like, others not so much. I've been playing video games pretty much for as long as I can remember but nothing beats the PS1/PS2 era for me!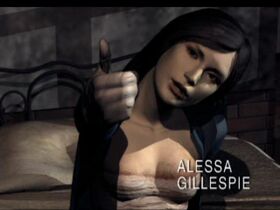 Shin Megami Tensei: Persona 3 FES
Shin Megami Tensei: Persona 4
Shin Mehami Tensei: Digital Devil Saga
Shin Megami Tensei: Nocturne
Silent Hill: Origins
Silent Hill
Silent Hill 2
Silent Hill 3
Silent Hill 4: The Room
Silent Hill: Homecoming
Silent Hill: Downpour
Star Ocean: Till the End of Time
Resident Evil
Resident Evil: Nemesis
Final Fantasy VII
Final Fantasy IX
Final Fantasy X
Jade Cocoon
Jade Cocoon 2
Bioshock
Shogun 2 Total War
Rome Total War
Age of Empires II: Age of Kings
Command and Conquer: Red Alert 2
Fahrenheit/Indigo Prophecy
Heavy Rain
Haunting Ground
Metal Gear Solid
Monster Hunter Freedom Unite
Tekken 5
Summoner
Lost Odyssey
Things I Love/Hate
Love
Video Games, especially horror (Silent Hill) and RPGs (Persona 3)
Travelling (Solo). Especially Italy and France.
Meeting new people of all cultures and ethnic backgrounds.
Films, especially comedy and horror.
Lady Gaga <3333
Jessie J <3

Hate
People who are pretentious about music, I love Pop, Rock, Metal, Rap and lots more. I hate people who conform to a music "stereotype" (metalheads are the usual suspects) and think they're better than everyone else. Yes I love Lady Gaga as much as a love the howling screams of Norway get over it, or get out.
The sun; I'm British, I live in constant rain :)
WHAT KIND OF POKEMON ARE YOU?
ROBBBB!!! What kind of pokemon are you?! HU HUH HUH?!