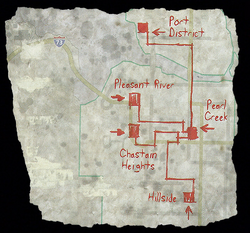 Appearances
Silent Hill: Downpour
The Underground Subway is a set of tunnels featured in Silent Hill: Downpour. These tunnels can be used to get around the town safely and quickly without confronting obstacles like abysses and monsters.
The subway tunnels can be used to travel between the Hillside, Pearl Creek, Pleasant River, Chastain Heights, and Port District areas.
In order to obtain access to the tunnels, the "Homeless" sidequest must be completed; each part of the quest completed unlocks a tunnel, allowing it to be used.