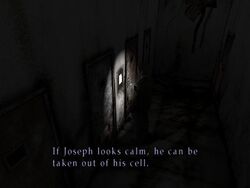 The Treatment Room Message is written on a note on the wall outside a cell in the treatment room on the third floor of Brookhaven Hospital in Silent Hill 2.
The person mentioned in the note is Joseph Barkin, a patient of the hospital who is noted to have paranoid delusions, and who has more than likely been leaving all the poorly-written messages around the hospital, such as the bloody message in his cell.
Transcript
"If Joseph looks calm, he can be

taken out of his cell."