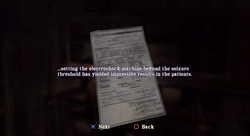 The Treatment Memo is a memo found in Silent Hill: Homecoming in the Otherworld Alchemilla Hospital's 2nd floor operating room. The memo details a doctor's discovery of more effective electroshock treatment.
Transcript
...setting the electroshock machine beyond the seizure threshold has yielded impressive results in the patients.
The most violent and depressed patients are rendered completely docile...
The only side-effects have been minor: memory loss, some dislocated bones, one fractured leg, and a patient bit off his tongue.
This accident was quite a nice side effect as this particular patient was also one of our noisiest.
I've instructed the doctors to continue with this intensity level for all treatments
Ad blocker interference detected!
Wikia is a free-to-use site that makes money from advertising. We have a modified experience for viewers using ad blockers

Wikia is not accessible if you've made further modifications. Remove the custom ad blocker rule(s) and the page will load as expected.