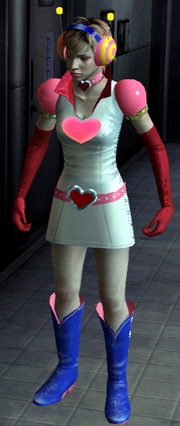 Description
It's a costume to change into the magic girl, "Princess Heart."
Purpose
Alternate costume
Appearances
Silent Hill 3
Silent Hill: Book of Memories
The Transform Costume is an item that appears in the inventory of Silent Hill 3 as an unlockable costume. After entering "PrincessHeart" into the costume typewriter, the Transform Costume will automatically appear in the inventory on an Extra New Game.
Using it activates a Sailor Moon-esqe sequence where Heather Mason transforms into Princess Heart. The costume allows Heather to run long distances without tiring, and also, if unlocked, allows the use of the Sexy Beam.
Silent Hill: Book of Memories
In Silent Hill: Book of Memories, it returns as an Expansion Pack weapon, simply called Princess Heart. It is a very powerful weapon. It has two attacks: a tap will shoot an energy ball orb and holding the button will shoot laser beams.
They sell for 7,000 MR and are the most profitable weapon of the game, next to the Great Spear (4,000 MR), TV Remote (3,000 MR) and Television (2,250 MR).
Because the weapons respawn in zones when they player resets the game, they can essentially exploit selling them to farm MR:
Save in library > Find Princess Heart(s) > Run to Howard's Shop and sell them > Save > Reset game (repeat)
This method is especially useful if the player finds two (or more) Princess Hearts in a zone (along with a Great Spear or TV Remote), meaning they can easily earn 14,000 MR every 10 minutes or so. For comparison, the most expensive item in the game is the Silver Bracer of Serpents (77,700 MR) and the second most expensive item is the Chamuel's Rose Quartz (27,000 MR).
Trivia
The item is most likely an homage to the Sailor Moon series, as it is rife with transformation sequences and bejeweled accessories. It is very reminiscent of a generic transformation sequence in Japanese anime.
Unlocking the costume in the Silent Hill HD Collection gives the Achievement "Where's Luna?"
Gallery