The Train Poem is found on a hanging, electrified corpse in the underground train station of Devil's Pit in Silent Hill: Downpour. There are three variants of this poem dependent on difficulty, as the poem is used in order to the solve the Devil's Pit Train puzzle.
Transcript
Easy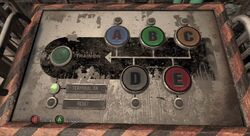 My Train Ride
By Donny Wilkes, Age 8

The man had a Red jacket,
And asked me "how are you?"

He drove the train
Through water that's blue

Then ice cream ruined
My orange shoes.
Normal
Mountains of Majesty
By Daniel
English 3A

Jutting underneath cerulean sky
Are rocky cliffs where my heart lies.

Eyes twinkling with emeralds fair,
My darling left me weeping there.

But her shadow can't take away
These bronze cliffs at end of day.
Hard
Beneath the slate burns wicked ash,
And the children cry for blood.

Outside, the fir trees blow
In a wind that knows not what happened here.

Or that Toluca's subterranean claws
Seek blood.
Always blood.

- Wilkes
Ad blocker interference detected!
Wikia is a free-to-use site that makes money from advertising. We have a modified experience for viewers using ad blockers

Wikia is not accessible if you've made further modifications. Remove the custom ad blocker rule(s) and the page will load as expected.