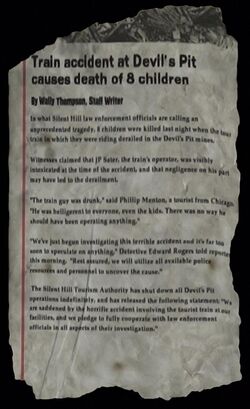 The Train Accident Article in Silent Hill: Downpour is located on the door of a room just before the first encounter with a Weeping Bat in the Devil's Pit. The player will have to pick up this article in order to advance through the door to the next room; making it the first journal entry that the player has to pick up (non-optional) in the game.
The report is relating to John Sater, whom Murphy Pendleton first meets before entering the mine, outlining his tragic past where eight children were killed in a train accident blamed on his negligence due to intoxication.
Transcript
Train accident at Devil's Pit causes death of 8 children
By Wally Thompson, Staff Writer
In what Silent Hill law enforcement officials are calling an unprecedented tragedy, 8 children were killed last night when the tour train in which they were riding derailed in the Devil's Pit mines.
Witnesses claimed that JP Sater, the train's operator, was visibly intoxicated at the time of the accident, and that negligence on his part may have led to the derailment.
"The train guy was drunk," said Phillip Menton, a tourist from Chicago. "He was belligerent to everyone, even the kids. There was no way he should have been operating anything."
"We've just begun investigating this terrible accident and it's far too soon to speculate on anything," Detective Edward Rogers told reporters this morning. "Rest assured, we will utilize all available police resources and personnel to uncover the cause."
The Silent Hill Tourism Authority has shut down all Devil's Pit operations indefinitely, and has released the following statement: "We are saddened by the horrific accident involving the tourist train at our facilities, and we pledge to fully cooperate with law enforcement officials in all aspects of their investigation."
Ad blocker interference detected!
Wikia is a free-to-use site that makes money from advertising. We have a modified experience for viewers using ad blockers

Wikia is not accessible if you've made further modifications. Remove the custom ad blocker rule(s) and the page will load as expected.