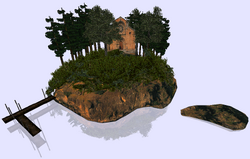 The Toluca Lake Island is an island that appears in Silent Hill 2, specifically in the Rebirth ending. Located in Toluca Lake, James Sunderland is seen rowing a boat with his dead wife aboard to this island.
The most notable thing about this island is that it has a church on it, which is where James is headed to. It is likely that this church is a part of the Order, as James is trying to revive his wife through the "Resurrection of the Dead" ritual.
A level explorer reveals that this island can be found between the Toluca Prison dock and the Lakeview Hotel, meaning that this island is south of the Lakeview Hotel. There is more evidence of this, as the model of the island (seen on the right) has another small island located beside it and on the South Vale map, there's also another small island located beside it as well.
Gallery
Ad blocker interference detected!
Wikia is a free-to-use site that makes money from advertising. We have a modified experience for viewers using ad blockers

Wikia is not accessible if you've made further modifications. Remove the custom ad blocker rule(s) and the page will load as expected.