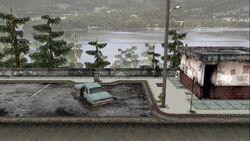 Toluca Lake is a large lake surrounded by forest in the Silent Hill series.
Geography
Though its precise size is unknown, Toluca Lake must be large enough to accommodate the construction of two mid-sized towns upon its shores, with those towns being a boat-ride apart from each other. Numerous hills encompass it, suggesting it may rest in a valley. In addition to hills, rivers and swaths of pine forest are also shown to be plentiful.
Background
Once part of an area claimed as "holy land" by indigenous native tribes, the area containing the lake entered into the hands of European settlers in the late 1600s when the original inhabitants were forced out of the area.
With the towns of Silent Hill and Shepherd's Glen built right upon its shores, it was hoped that with income lost from coal mining when deposits ran dry, Toluca Lake would become a beacon of tourism.
Toluca Lake began to become a famous touristic destination even before the coal mines closed. Many tourist offices opened across the town of Silent Hill, as well as boat launchers, hotels and motels, giving the tourists many options to choose where to relax during their trips in the region.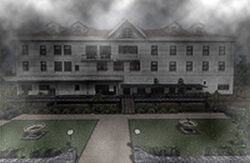 The Lakeview Hotel, for example, was one of the most notables ones, and is built right on the shore of the lake, offering the tourists immediate access to the lake for swimming at warm periods.
Even with the lake being an attractive destination for many tourists, some infamous but mysterious maritime accidents occurred in the lake at past times. It's a possibility that the area has seen a steep decline in terms of tourist economy.
Landmarks and destinations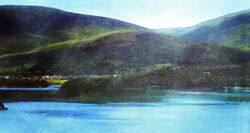 A list of locations beside or on the lake.
Lighthouse - A lighthouse built on the northern shores of Toluca Lake, found in the Resort Area. It's said to be one of Silent Hill's older structures.
Lakeview Hotel - A once-prominent feature of Silent Hill's Resort Area, the hotel has since been consumed by fire.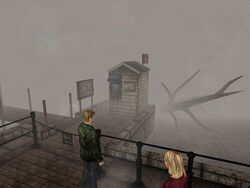 Log cabin retreats, where tourists can stay overnight during their time in Silent Hill.
Maritime disasters
With the influx of visitors to the area over time, accidents, in particular boating accidents, were an inevitability.
At some point in time, 67 people died of illness and "sleep beneath the lake".
In November 1918, a ship named Little Baroness goes missing. Its fate is unknown.
With the closing of the area coal mines in 1939, coupled with an increase in tourism, a rather prolific rash of boating accidents occurs on the lake.
In Silent Hill 2 (exact date unknown), James Sunderland may have been driven to suicide in the lake with his wife's corpse with him, in the In Water ending. The canon ending of Silent Hill 2 is ambiguous.
Trivia

For the backdrop of Toluca Lake in Silent Hill 2, it appears to be an edited photo of the real-life Derwentwater Lake in England.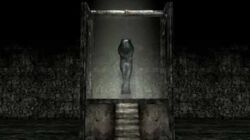 Although portrayed as a fictional place in the games, a real-life Toluca Lake does exist. It also may be possible that Toluca Lake (or at least its name) is based on Toluca, Mexico.
It is known that in the comics, Silent Hill is built on the shores of Toluca Lake. Any history regarding this incarnation of the lake is unknown.
Gallery
Silent Hill
Silent Hill 2
Silent Hill 3
Silent Hill 4: The Room
Silent Hill: Homecoming
Silent Hill: Downpour
Silent Hill: The Arcade
Silent Hill: Shattered Memories
Silent Hill film