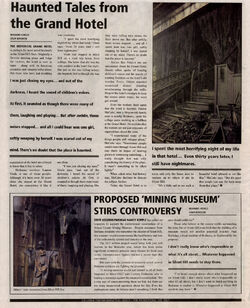 The Toluca County Mining Museum is a not-yet-built structure mentioned in the Brahams Herald, a promotional newspaper released along with the Silent Hill film. The museum is to be built in the town of Brahams, located in Toluca County.
In 2004, construction has not yet begun on the museum, due to controversy from the former residents of Silent Hill, West Virginia. The museum is meant to honor the area's history of mining, but some people feel that it will only stir up the dark secrets of Silent Hill.
Ad blocker interference detected!
Wikia is a free-to-use site that makes money from advertising. We have a modified experience for viewers using ad blockers

Wikia is not accessible if you've made further modifications. Remove the custom ad blocker rule(s) and the page will load as expected.