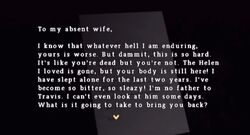 To My Absent Wife is a letter Richard Grady wrote to Helen Grady in Silent Hill: Origins. Travis Grady can find it in the first floor diner of Riverside Motel.
The letter expresses Richard's frustration and loneliness at being separated from his wife for two years. The bitterness he felt led to an estrangement between himself and Travis, whom he can hardly bear to be around due to the painful memories his son's presence constantly reminds him of.
Transcript
"To my absent wife,


I know that whatever hell I am

enduring, yours is worse. But

dammit, this is so hard. It's like

you're dead, but you're not. The

Helen I loved is gone, but your

body is still here! I have slept

alone the last two years. I've

become so bitter, so sleazy! I'm no

father to Travis. I can't even look

at him some days. What is it going

to take to bring you back?


Yours forever, Richard"
Ad blocker interference detected!
Wikia is a free-to-use site that makes money from advertising. We have a modified experience for viewers using ad blockers

Wikia is not accessible if you've made further modifications. Remove the custom ad blocker rule(s) and the page will load as expected.