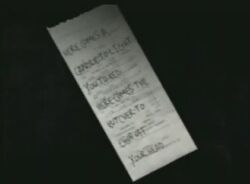 The Till Receipt is a memento item found in Silent Hill: Origins, in the General Store. The memo is similar to several other anonymous notes scrawled on random objects throughout the game, and serves as a warning to Travis Grady that the Butcher is nearby.
Transcript
"(Someone has written on the receipt.)


HERE COMES A CANDLE TO LIGHT YOU TO BED

HERE COMES THE BUTCHER TO CHOP OFF YOUR HEAD."
Trivia
The two lines of the memo are adapted from an English nursery rhyme and singing game called Oranges and Lemons. The song refers to the bells of several churches, all within or close to London, England, with some versions listing more or less churches than others. The song usually ends with the following lines:
"Here comes a candle to light you to bed,

Here comes a chopper to chop off your head."