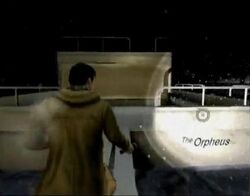 "
It's a boat... It's like a car but goes on water.
—Dahlia to Harry

"
The Orpheus is a white boat found in Silent Hill: Shattered Memories. Harry Mason finds The Orpheus after passing through the Lakeside Amusement Park. Inside he finds Dahlia, who appears to be the owner of the boat as she controls and describes the boat as if she has done it before. They set a course for the lighthouse, and it is implied that they have sex with each other en-route.
The interior of the boat is very colorful and contains a bed which has probably been used in the past. The color scheme and decoration of the interior may change depending on the version of Dahlia the player has obtained. Not much of the boat is explored in-game, as it is stopped in the middle of the lake by the Otherworld before reaching its destination at the Lighthouse.
Trivia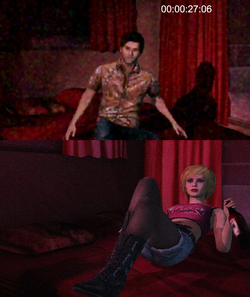 In Greek mythology, Orpheus was a poet and was the start of Orphism, which is the name given to a set of religious beliefs and practices. Orpheus was one of the few Greek heroes to return after visiting the Underworld, and his music even had power over Hades.
The Orpheus may also be a reference to the PlayStation game Echo Night, a horror-adventure game; the vast majority of the game took place on the ocean liner The Orpheus.
The Orpheus is probably a re-imagining of the nameless boathouse where Harry meets Dahlia Gillespie in the original Silent Hill, just before accessing the Lighthouse.
The name "The Orpheus" on the boat, does not appear in the PlayStation 2 version.
Gallery
Ad blocker interference detected!
Wikia is a free-to-use site that makes money from advertising. We have a modified experience for viewers using ad blockers

Wikia is not accessible if you've made further modifications. Remove the custom ad blocker rule(s) and the page will load as expected.