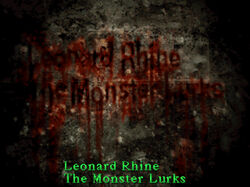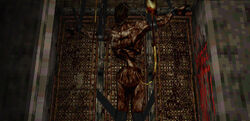 The Monster Lurks is a short memo Harry Mason can find in the original Silent Hill game, located in the Otherworld boys' restroom on the first floor of Midwich Elementary School. It serves no real, informative purpose to Harry; however, the stall where it is located must be entered if the player wishes to retrieve the shotgun, which is located on the ground below a decayed corpse crucified to the wall. If Harry looks to the right, he can observe what is written on the wall in blood.
Transcript
Leonard Rhine
The Monster Lurks
Trivia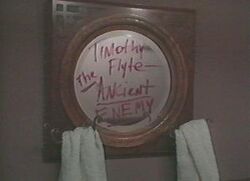 Ad blocker interference detected!
Wikia is a free-to-use site that makes money from advertising. We have a modified experience for viewers using ad blockers

Wikia is not accessible if you've made further modifications. Remove the custom ad blocker rule(s) and the page will load as expected.