Harry outside The Family Pet
Appearances
Silent Hill: Shattered Memories
The Family Pet is a pet shop in Toluca Mall that Harry Mason visits in Silent Hill: Shattered Memories.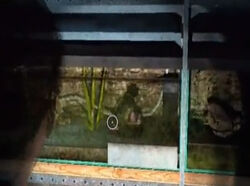 The store contains a memento and an echo message, as well as a UFO. Harry needs to go through the store to progress further into the mall.
The store has many empty pet cages, as well as some aquariums with fish still swimming in them. The "Family Pet" message implies that Harry went to this shop looking for a dog to replace the one that was run over. The message includes an attached photo of Cheryl and a dog, whom she had named "Chip".
Ad blocker interference detected!
Wikia is a free-to-use site that makes money from advertising. We have a modified experience for viewers using ad blockers

Wikia is not accessible if you've made further modifications. Remove the custom ad blocker rule(s) and the page will load as expected.