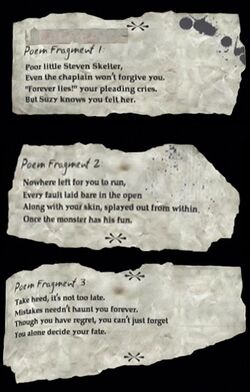 The Bogeyman Rhyme is a memo from Silent Hill: Downpour. It is used by the children of St. Maria's Monastery to keep the Bogeyman away. Murphy Pendleton must learn this rhyme in order to prove to a little boy that he isn't the monster. The rhyme is split into three separate notes and spread around the monastery. The first is found on an altar in the monastery's chapel, the second is found in a chest inside a cottage when the theater stage comes (Hansel and Gretel puzzle) to life and the final one is found inside a Screamer in an X-ray room. Below is the combination of all three of these notes.
Transcript
Poor little Steven Skelter,
Even the chaplain won't forgive you.
"Forever lies!" your pleading cries.
But Suzy knows you felt her.
Nowhere left for you to run,
Every fault laid bare in the open
Along with your skin, splayed out from within
Once the monster has his fun
Take heed, it's not too late.
Mistakes needn't haunt you forever.
Though you have regret, you can't just forget
You alone decide your fate.
Gallery
Ad blocker interference detected!
Wikia is a free-to-use site that makes money from advertising. We have a modified experience for viewers using ad blockers

Wikia is not accessible if you've made further modifications. Remove the custom ad blocker rule(s) and the page will load as expected.