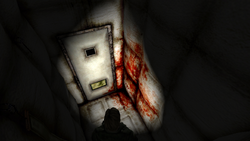 Tern the Numbers is a message written in blood in a cell in the treatment room on the third floor of Brookhaven Hospital in Silent Hill 2. There is a randomized four-digit number written on the padded wall, which can be observed when reading the memo. This number is used in order to unlock a combination lock on a secured box in Room S14 on the third floor of the hospital.
The spelling, grammar and punctuation of the memo is very poor, much like some of the other memos found in the hospital. Because of this, they're all most likely written by the same person.
The author in question is probably Joseph Barkin, a mental patient first mentioned in some patients records found in the reception office on the first floor of the hospital. Also, the cell where the message is located is most likely his due to a message which can be found on the wall outside the cell.
Transcript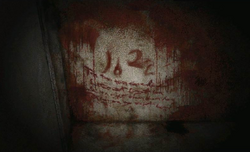 (random four-digit code here)

"Tern tern tern the numbers

better not forget them

So I'll right them down here

The other one, my secret name"
Trivia
The official strategy guide by BradyGames claims that the number code is meant to be more indecipherable on harder riddle difficulties. Whether or not this is true is unknown as the official guides sometimes have errors.