Description
"Placard from Subway World. It shows a woman and says, 'Temptation'."
Appearances
Silent Hill 4: The Room
The Temptation Placard is an item found at the end of Henry Townshend's first visit to the Subway World, as well as Henry's first Otherworld visit in general. Much like the other placards, following the theme of being found just before the death of a character transpires, this one can be found on the door that leads into the room where Henry witnesses Cynthia Velasquez's death. It isn't used until about halfway through the game, where Henry places it, along with the other placards, beside an inscription on his laundry room wall to open up a new hole to help him travel between Walter Sullivan's Otherworlds.
Trivia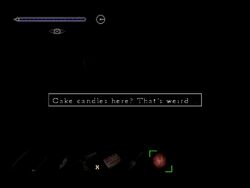 Confirmed on PC, the Temptation Placard could be labeled as "cake candles" because of a bug.
See also
Ad blocker interference detected!
Wikia is a free-to-use site that makes money from advertising. We have a modified experience for viewers using ad blockers

Wikia is not accessible if you've made further modifications. Remove the custom ad blocker rule(s) and the page will load as expected.