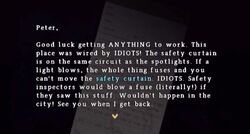 The Technician's Warning is a memo Travis Grady finds in the first floor curtain control area of the Artaud Theater in Silent Hill: Origins. It hints to the player that in order to reach the actual stage and be capable of seeing adequately, only one process is needed.
Transcript
"Peter,

Good luck getting ANYTHING to

work. This place was wired by

IDIOTS! The safety curtain is on

the same circuit as the spotlights.

If a light blows, the whole thing

fuses, and you can't move the safety

curtain. IDIOTS. Safety inspectors

would blow a fuse (literally!) if they

saw this stuff. Wouldn't happen in

the city! See you when I get back.


Eric"
Ad blocker interference detected!
Wikia is a free-to-use site that makes money from advertising. We have a modified experience for viewers using ad blockers

Wikia is not accessible if you've made further modifications. Remove the custom ad blocker rule(s) and the page will load as expected.