The image engraved on the tablet
Description
"Metal tablet with 'Gluttonous Pig' drawn on one side. Found it in the dining room."
Purpose
One of three tablets needed to find a horseshoe
Location
Cafeteria, Toluca Prison
Appearances
Silent Hill 2
The Tablet of "Gluttonous Pig" is one of three tablets required to solve the gallows of Toluca Prison in Silent Hill 2. It is found on a pushcart in the prison cafeteria following James Sunderland's landing and conversation with Eddie Dombrowski. Official information provided by Konami confirms the tablet represents Eddie.
The tablet is used in order to atone for Eddie's sin of causing bodily harm to a football player and killing a dog.
Symbolism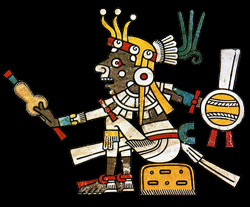 The tablet depicts Tlahuizcalpantecuhtli, the god of the planet Venus (the morning star) in the Aztec culture. According to Aztec mythology, Tlahuizcalpantecuhtli was considered a dangerous and malevolent god, and was associated with Quetzalcoatl. Tlahuizcalpantecuhtli was believed to cause harm to people by shooting darts.
Tlahuizcalpantecuhtli appears quite different in the tablet, as he has the head of a "gluttonous" pig.
Connections to Eddie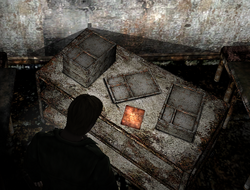 The tablet represents Eddie as he is — as a "gluttonous pig" (fat). At one point, Eddie prioritizes eating a pizza over Laura's welfare in a town full of monsters. Eddie's paranoia also extends to extreme self-consciousness, as he believes others view him as "disgusting".
The use of Tlahuizcalpantecuhtli on the tablet extends the tablet's symbolism of Eddie. Tlahuizcalpantecuhtli's dangerous activity is similar to Eddie's willingness to kill, as Eddie physically injures James in the shoulder at the end of the labyrinth. Tlahuizcalpantecuhtli was believed to cause harm to people by shooting darts at them — highly symbolic of Eddie pointing guns and shooting bullets at others who laughed at him.
The tablet is also found by James inside the prison cafeteria, a connection to food.
See also
Ad blocker interference detected!
Wikia is a free-to-use site that makes money from advertising. We have a modified experience for viewers using ad blockers

Wikia is not accessible if you've made further modifications. Remove the custom ad blocker rule(s) and the page will load as expected.