Location
Lakeside Amusement Park
Appearances
Silent Hill 3
Silent Hill: The Arcade
The Swing Rocket is an attraction located in Lakeside Amusement Park and visited by Heather Mason in the Otherworld of Silent Hill 3, and by Eric and Tina in Silent Hill: The Arcade. Unlike some rides found in the park, the Swing Rocket plays a mandatory role in progressing through the game.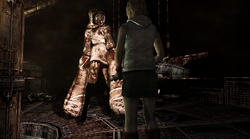 It appears to be designed similar to a carousel, having the same centripetal movement, but the orthodox horses are replaced by four rocketship-like models. The protagonist may examine the ride, but if the player prompts Heather to observe one of the rockets she will aggressively comment, "There's no time to start playing around with stuff like this!" There is also a control room to the right of the entrance, however it is not accessible if the location is visited before the chain is obtained from the bleachers of the amphitheater.
Once Heather has the chain in her inventory, the door to the control room is found inexplicably open, granting her access to it once she has attached the chain to the center column of the Swing Rocket and the opposing end on the handle of a heavily rusted gate that prohibits her from entering the eastern side of the amusement park. The player can find ammunition for the handgun on the counter opposite to the control panel. Upon activating the ride from the control room, the gate is forced open, and Heather can continue on to find an injured Douglas Cartland.
Ad blocker interference detected!
Wikia is a free-to-use site that makes money from advertising. We have a modified experience for viewers using ad blockers

Wikia is not accessible if you've made further modifications. Remove the custom ad blocker rule(s) and the page will load as expected.