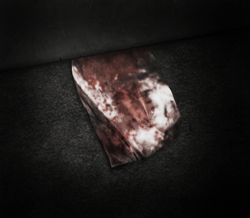 The Superintendent's Memo is a note sent to Henry Townshend by Frank Sunderland, the superintendent of South Ashfield Heights, after a failed attempt at opening Room 302's door with the apartment keys. The memo can't be read as it's stained with blood and doesn't have distinguishable text. The memo can be found in Room 302, after being slipped under the apartment door.
Transcript
(It's stained with blood, and
I can't read it...)
Ad blocker interference detected!
Wikia is a free-to-use site that makes money from advertising. We have a modified experience for viewers using ad blockers

Wikia is not accessible if you've made further modifications. Remove the custom ad blocker rule(s) and the page will load as expected.