Suffocated Forever memento
Description
"An insect (an ant?) trapped in amber."
Appearances
Silent Hill: Shattered Memories
Suffocated Forever is a memento that can be found in Silent Hill: Shattered Memories by Harry Mason. The memento is found near the second floor exit of the Cat House, closed inside of a heart-shaped jewelry box, and is an insect trapped in fossilized amber.
Symbolism
The memento could refer to the way that the bug is trapped in time and preserved, much like Cheryl Mason's memories of Harry. This is also supported by the fossil being located in a heart-shaped box, which shows its owner clearly held the object dearly.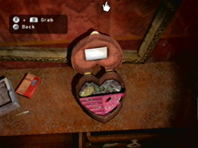 Ad blocker interference detected!
Wikia is a free-to-use site that makes money from advertising. We have a modified experience for viewers using ad blockers

Wikia is not accessible if you've made further modifications. Remove the custom ad blocker rule(s) and the page will load as expected.