Heather's Submachine Gun in Silent Hill 3
Description
"Holds 32 rounds of ammunition. Great for its continuous firing."
Appearances
Silent Hill 3
Silent Hill 4: The Room
Silent Hill: Book of Memories
The Submachine Gun is a firearm introduced in Silent Hill 3 and reappears in Silent Hill 4: The Room and Silent Hill: Book of Memories. They are only wielded by the female characters in the main titles, Heather Mason and Eileen Galvin. In all games, they have good range and inflict a great deal of damage.
Silent Hill 3
The submachine gun is the third ranged weapon found in Silent Hill 3 by Heather Mason, and is discovered in the basement of Brookhaven Hospital. It has decent damage, but ammo is scarcely placed throughout the world. It can be equipped with the silencer.
Silent Hill 4: The Room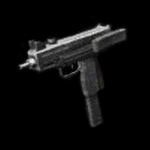 "Small-sized, one-handed machine gun. Perfect for Eileen."
The submachine gun is an unlockable weapon in Silent Hill 4: The Room and is for Eileen Galvin's exclusive use. It can only be found after completing the game with a nine-star ranking and starting a "Brand-new Fear" game. It is found in Room 102 of South Ashfield Heights, on the counter by the refrigerator. However, Eileen's possessed state will increase.[1]
Silent Hill: Book of Memories
The submachine gun is a powerful ranged weapon available in Book of Memories.
Trivia
The submachine gun is an Ingram M10 machine pistol dressed up as an IMI Uzi submachine gun.
The owner of Garland's, Steve Garland, was killed by a submachine gun. It is unknown if the submachine gun found by Henry Townshend in Silent Hill 4: The Room is the murder weapon. The same is true for the rusty axe and Twin Victim.
In Silent Hill 3, after beating the game once, the player unlocks another version of the submachine gun: the Unlimited Submachine Gun, which has infinite bullets and automatic fire; however, in order to get it, the player must beat the final boss using a melee weapon (katana, steel pipe, maul, etc).
The silencer's interchangeability between the handgun and the submachine gun suggests that they are chambered for the same ammunition; however, due to gameplay purposes, their ammunition boxes are considered separate entities.