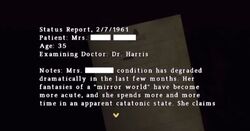 The Status Report is a memo found that Travis Grady finds in Silent Hill: Origins. It is located in the patients belongings on the first floor of Cedar Grove Sanitarium, and it can be concluded that it speaks of Helen Grady.
Transcript
"Status Report: 2/7/1961

Patient: Mrs. ___________

Age: 35

Examining Doctor: Dr. Harris


Notes: Mrs. ____________ condition has

degraded dramatically in the last

few months. Her fantasies of a

'mirror world' have become more

acute, and she spend more and

more time in an apparent catatonic

state.


She claims that during this time

she is in the "otherworld". She

now has full recollection of her

attack on her son, but shows no

remorse of the incident. Indeed

she seems proud, almost smug

of her attempted filicide!


I am worried that this behavior

could be a side effect of the

increased doses of Epolineum that

the patient has been prescribed.


I have asked for her dose to be

halved and hope to see positive

results shortly."