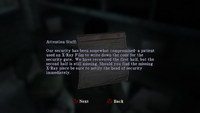 The Staff Notice is a memo from Silent Hill: Homecoming found on the 2nd floor in the Nurse Center of Alchemilla Hospital. It details a breach in security.
Transcript
Attention Staff
Our security has been somewhat compromised - a patient used
an X-Ray film to write down the code for the security gate.
We have recovered the first half, but the second half is still missing.
Should you find the missing X-ray piece, be sure to notify the head of security
immediately.