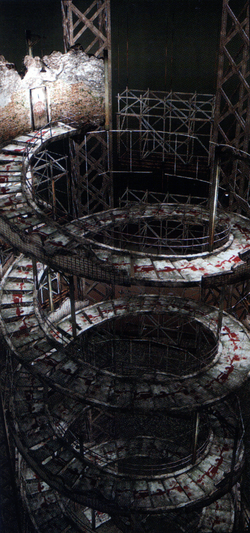 "
This must be what Hell is like.
—Eileen Galvin descending the staircase.

"
The Spiral Staircase, marked as "Ever Downward" at its entrance, refers to the long, Otherworldly staircase that Henry Townshend and Eileen Galvin descend in Silent Hill 4: The Room. Henry first enters the staircase after rescuing Eileen from the impending danger in the Otherworld St. Jerome's Hospital. Henry and Eileen encounter the spiraling stairs many more times throughout their journey. Presumably, the spiral staircase was created and used by Walter Sullivan to access the many worlds his dark rituals had formed.
In Silent Hill: The Arcade, the staircase is visited and known as "19181993".
Design
The stairs are kept in a neat cylindrical form and are only interrupted by an occasional path jutting to the center that leads to a portal hole. The staircase connects Walter's Otherworlds so that after exiting a certain world, Henry and Eileen are taken to the staircase where they can reach the next world. At first, fog surrounds the spiral, but as the stairs are followed down, the atmosphere takes on a more sinister and dark appearance. Occasionally, disturbing displays can be seen off the side of the staircase, including twitching dolls and animals. At the bottom of the stairs is the door to Room 302 of the Past, where Joseph Schreiber stayed before Henry took up the apartment.
Symbolism
The staircase can be described as the manifestation of Walter Sullivan's inner mind: his dark intentions, his disdain of reality and his fractured childhood spiraling out of control. Descending down the stairs can also represent the dive into Walter's psyche. The frequent displays around the stairs also allude to Walter's childhood and fears. Physically, the spiral staircase can also be likened to an umbilical cord, another symbol of Walter's desires. Like the Greedy Worm, the spiral staircase is long, continuous, and connects to the various Otherworlds Walter created. The darkness that builds up as Henry and Eileen descend can also be representative of the darkness Walter harbors in his heart, or his clouded obsession with his mother, which gets darker through time and eventually culminates into his mass murders.
Gallery