Appearances
Silent Hill film
Smitty's is a gas station, restaurant, and tattoo shop that appears in the Silent Hill film. It is located in Brahams, not far from the town of Silent Hill, West Virginia.
Silent Hill
Late at night, Rose Da Silva arrives at Smitty's, intending to buy gas and continue her trip to Silent Hill. In the parking lot of Smitty's, Rose discovers that her adoptive daughter Sharon has been making macabre drawings. Sharon begins to cry when her mother shows her and inquires about the drawings, unable to recall making them. Her ruckus catches the attention of Cybil Bennett, a curious police officer with a soft spot for children in danger.
Rose enters Smitty's and speaks with the cashier, who tells her that her credit card isn't working. As Rose exits the building, her husband Chris calls and demands that she return to their home in Ohio after he has done research on the treacherous atrocity Silent Hill is claimed to be. Rose refuses, desperate to take any move that might help her daughter, and then snaps at Cybil when she asks her if everything is alright.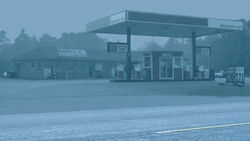 Smitty's is seen again at the end of the film. This time, it appears to be abandoned, and is encased in the fog of the Fog World. Rose drives past it as she returns home with Sharon/Alessa.
Ad blocker interference detected!
Wikia is a free-to-use site that makes money from advertising. We have a modified experience for viewers using ad blockers

Wikia is not accessible if you've made further modifications. Remove the custom ad blocker rule(s) and the page will load as expected.