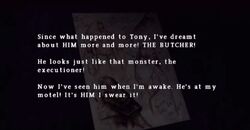 Sketches is a memo found in Silent Hill: Origins. Travis Grady can locate it in the second floor costume storage room of the Artaud Theater. After reading the memo, the sound of a knife slashing an unknown object can be heard.
Transcript
"Since what happened to Tony, I've

dreamt about HIM more and more!

THE BUTCHER!


He looks just like that monster, the

executioner!


Now I've seen him when I'm

awake. He's at my motel! It's HIM, I

swear it!"