Sister Margaret at the orphanage
Occupation
Founder and caretaker at the Toluca County Orphanage
Appearances
Silent Hill film
"
The story isn't hers alone, but all of ours!
— Margaret to Chris Da Silva about Alessa Gillespie
"
Sister Margaret is a minor character in the Silent Hill film. She is a nun at the Toluca County Orphanage located in Brahams where she runs the orphanage and cares for the orphaned children.
Background
Sister Margaret was a resident of the town of Silent Hill when the great fire broke out on November 1, 1974. She survived the fire and subsequently opened the Toluca County Orphanage to take in the orphaned children whose parents didn't survive.
Though it's never explicitly stated, it is heavily implied that Sister Margaret knew of the fanatical cult residing in the town, and what they did the night of the fire.
Sometime in the 1990s, Sister Margaret opened the door to the orphanage to discover an abandoned baby lying on the porch. She picked up the baby and looked around for the mother, but Dark Alessa, the one who left the baby there, has already disappeared. This baby was later discovered to be a doppelgänger of Alessa Gillespie, a child who previously resided in Silent Hill.
According to the Brahams Herald, Sister Margaret is set to receive an award from the mayor of Brahams for her thirty years of service at the orphanage in 2004.
Silent Hill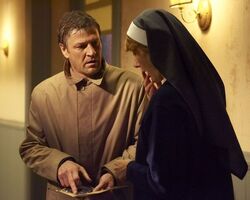 Sister Margaret is confronted by a worried Christopher Da Silva, whose wife and daughter, Sharon, have recently disappeared. Previously, Christopher had found a photograph of a girl named Alessa Gillespie, whom he believes is likely the biological mother of his daughter, Sharon. Chris seeks out Sister Margaret, intending to ask her about Alessa. Sister Margaret becomes upset when she sees the picture of Alessa, and tells Chris that "The story isn't hers alone, but all of ours!" Chris then physically attacks her, grabbing her and demanding that she explain what she's talking about. Thomas Gucci arrives and separates Chris from Sister Margaret, who hurries down the stairs.
Later, Sister Margaret stands by and watches as Officer Gucci explains to Chris some of Alessa's story, and what the cult did to her.
Trivia
Ad blocker interference detected!
Wikia is a free-to-use site that makes money from advertising. We have a modified experience for viewers using ad blockers

Wikia is not accessible if you've made further modifications. Remove the custom ad blocker rule(s) and the page will load as expected.