Silent Hill Historical Society
Talk

0
The historical society in Silent Hill 2
Location
Off Nathan Avenue
Northwest South Vale
Floors
1 (excluding holes)
Appearances
Silent Hill 2
Silent Hill: The Arcade
The Silent Hill Historical Society, also known as the Museum of Historical Materials, is a historical museum on the edge of South Vale. This museum is accessed in Silent Hill 2 after James Sunderland leaves Brookhaven Hospital. It is managed by Frank Anderson, as seen in Silent Hill: The Arcade.
Design
The building is designed as a small museum, showcasing photographs and artifacts of Silent Hill's historical past. Many photos hang on the walls of the museum, some of which show landmarks of the once-famous town. Some pieces also refer to the dark practices that have taken place within Silent Hill.
Much of the building is in shambles during James's visit; display cases are shattered and wall doors broken down. Some of the museum's pictures have also may have been touched by the effects of the Otherworld, as they depict horrific scenes and disturbing figures.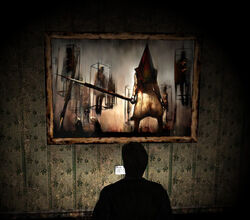 One of them, "Misty day, remains of the Judgment", features Pyramid Head. It is unknown if this painting is actually real, or just a result of James's subconsciousness interacting with the Otherworld and manifesting the painting. In Silent Hill: The Arcade, the painting has changed into another painting with Pyramid Head in a different location, suggesting it has a supernatural quality to it.
Toluca Prison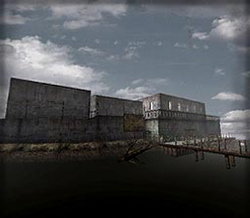 Main article: Toluca Prison
On one of the museum's walls is a gaping hole revealing a long tunnel to travel through. As James travels down to the bottom levels of the historical society, he will begin to hear a boat horn in the background, possibly alluding to the sinking of the Little Baroness. After reaching the end of the tunnel and jumping into various mysterious holes, James will find himself in the abandoned prison, which the Historical Society was seemingly built on top of, or converted into.
In his journey beneath the Historical Society, James encounters numerous deep holes which he must jump into, descending into the unknown. Following the perplexing Labyrinth and the fight with Eddie Dombrowski, James inexplicably appears only at the surface level of the lake, despite all the holes and passageways he has passed.
Trivia
In the back room with the show case containing the Obsidian Goblet, a painting of the first hole James jumps down in Toluca Prison can be seen.
In the Book of Lost Memories it is confirmed that James saw the Misty day, remains of the Judgment and a guise of Silent Hill's executioners "overlapped" with his felling of guilt, and then later appeared as a representation of his desire for punishment in the Otherworld created by his subconscious. The picture "depicts the scene of an execution that was once carried out".
In The Arcade, the "Misty Day" painting changes into another picture of Pyramid Head, implying the painting has a supernatural quality to it.
Gallery