Silent Hill 3 Special Mini Sound Track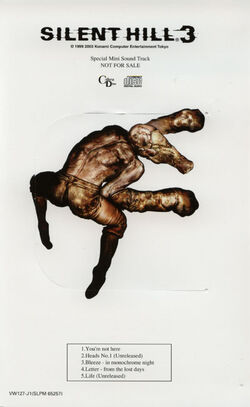 Silent Hill 3 Special Mini Sound Track is a 3" CD disc which was bundled with the first copies of the Japanese PS2 version of Silent Hill 3. The disc has two unreleased tracks as well as 3 tracks from Silent Hill 3 Original Soundtracks. "Breeze ~ In Monochrome Night" differs from the original version by not containing the spoken text part.
Tracklist
You're Not Here (3:46)
Heads No. 1 (Unreleased) (3:20)
Breeze - in Monochrome Night (3:07) (Misspelled "Bleeze")
Letter - From the Lost Days (3:54)
Life (4:55)
Ad blocker interference detected!
Wikia is a free-to-use site that makes money from advertising. We have a modified experience for viewers using ad blockers

Wikia is not accessible if you've made further modifications. Remove the custom ad blocker rule(s) and the page will load as expected.