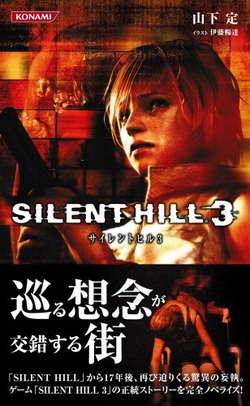 Silent Hill 3: The Novel is an official Konami-published novelization of Silent Hill 3, written by Sadamu Yamashita and containing illustrations by Masahiro Ito. It is available only in Japanese and hasn't been fan-translated into English yet.
It is debatable how canon it is. It is unknown if Hiroyuki Owaku was involved, and if Yamashita received any official story notes from Owaku. Thus, the novelization is seen as a secondary source.
Not much about the novel's content is known, other than that Vincent's surname is revealed to be Smith.

Gallery
Ad blocker interference detected!
Wikia is a free-to-use site that makes money from advertising. We have a modified experience for viewers using ad blockers

Wikia is not accessible if you've made further modifications. Remove the custom ad blocker rule(s) and the page will load as expected.