Description
"Put it on a handgun or submachine gun to muffle the blasts."
Location
Construction site, 5F
Appearances
Silent Hill 3
The Silencer is an item that can be equipped in Silent Hill 3.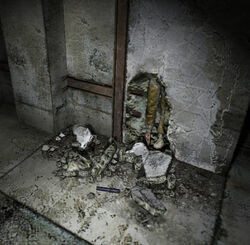 Heather Mason can find the item after breaking down a newly-plastered wall inside the Construction Site. The item can be equipped to the handgun or submachine gun, muffling the sound of the gunfire. This essentially makes it harder for monsters to locate where Heather is, or where the shot came from. It also serves to suppress the muzzle flash, a burst of light that naturally occurs from the end of the barrel after each shot, making it harder still for monsters to direct their attention to Heather. It works well against blind monsters that rely on sound, such as the Missionary.
Trivia
The silencer seems to be a nod the the Metal Gear Solid series, as Heather sees a pair of legs behind the wall wearing camouflage when she finds the silencer. According to the BradyGames strategy guide, the corpse behind the wall was supposed to be a cameo of Solid Snake, hence the military fatigues the corpse wears, and the silencer belonging to him.
Ad blocker interference detected!
Wikia is a free-to-use site that makes money from advertising. We have a modified experience for viewers using ad blockers

Wikia is not accessible if you've made further modifications. Remove the custom ad blocker rule(s) and the page will load as expected.