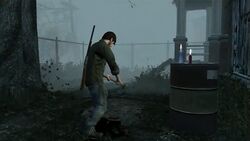 14 Sidequests are featured in Silent Hill: Downpour in order to make the game less linear and to encourage players to explore the town of Silent Hill. None of them are mandatory, but each one of them adds to the background story of the game and unlocks Murphy's thought on specific characters in the extras menu.
Quests
Trivia
Completing all sidequests unlocks the trophy/achievement, "Silent Hill Tour Guide".
Gallery
Ad blocker interference detected!
Wikia is a free-to-use site that makes money from advertising. We have a modified experience for viewers using ad blockers

Wikia is not accessible if you've made further modifications. Remove the custom ad blocker rule(s) and the page will load as expected.